100% organic, Eco-packaged CBD, made with love in beautiful Santa Fe, New Mexico
What makes Fruit of the Earth CBD the best?
MICRONIZATION!
Our Proprietary Micronization Process reduces the particle size to roughly a micron,
small enough to enter cells for greater absorption. (Blood cell are 5 microns).
Absorption of regular ingestible CBD is roughly 13-19%, so if you swallow 20mg of CBD, only 3mg may be all that is absorbed by your body.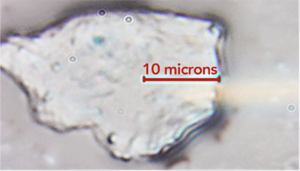 Average clump of Full Spectrum CBD Oil before micronization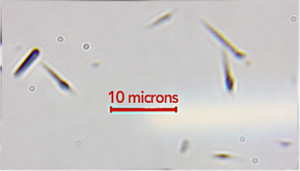 Smaller particles of Full Spectrum CBD Oil after micronization
Micronization makes ingestible CBD a full 7–10 times more bioavailable!
Your body can absorb most of the CBD you ingest – a greater effect with a lesser dose.
More Effective for Your Body, More Effective for Your Budget.
Note: We never use surfactants in our formulations as they are often created chemically and are potentially harmful on the micronized level.
This Months Best Sellers
Get all benefits of all cannabinoids with our Full Spectrum Formulas! With a range of concentrations from 300mg-to-3000mg, you can find the right, exact dose that works for you.
The ideal choice for support with ailments like arthritis, headaches, menstrual cramps and other physical soreness.  Targeted herbs with CBD are highly anti-inflammatory and support overall well being.
100% natural and organic ingredients, our gummies are the yummiest! A wholesome candy experience and the perfect vessel for the many benefits of cannabidiol (CBD)
A powerhouse cell and detox support formula, this was originally created to help balance cell inflammation and support healthy detoxification in people with serious wellness challenges. This essiac style tonic is one of a kind product that has never been produced before. 
With 1000mg of CBD in the bottle, this water-soluble CBD Elixir is the perfect addition to your morning cup of goodness. Mix CBD in any drink without the film of oil on top! *Enjoy the health and relaxation benefits of CBD, while enjoying your favorite drink*
S.O.S. is a unique and targeted formulation designed to mitigate common symptoms of opiate withdrawal, such as debilitating chills, aches, nausea and vomiting, during acute and peak phases. In a matter of minutes there is a calming of symptoms.
Fruit of the Earth Natural Health is committed to supporting our Beautiful Planet
Our Products Are:
Always Small Batch
Always Hand Crafted
Always Third-Party Tested
Always, Always, Always Organic
Always Sourced from Conscious Partners
Always Packaged with Eco-Friendly Materials
For every CBD Purchase you make, we plant a tree on your behalf – that's over 100,000 trees to date!